Garden of Green
Showing all 31 results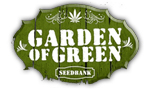 The Garden of Green seed bank is a leading pioneer in providing high-CBD cannabis seeds for patients in need. Their medical line features three trusted strains: Critical Relief CBD Kush, Cookies CBD, and Super Critical Bud CBD, with CBD levels reaching up to an impressive 23%. These strains are ideal for those seeking relief from conditions like insomnia, chronic pain, cancer-related symptoms, mental disorders, and physical issues. To be considered high-CBD, a cannabis seed must produce buds containing at least 4% CBD, making Garden Of Green's medical line all the more impressive, with CBD content starting at 9%.
Garden Of Green is committed to providing the best for medical patients, and each of their medical high-CBD cannabis seeds is produced organically, ensuring that the benefits of high cannabidiol content are not offset by harmful chemicals.
Although the Garden Of Green seed bank specializes in high-CBD strains, they understand the benefits of THC and offer a vast list of cannabis seeds with extremely high THC content, catering to both medicinal and recreational users. From Sativa and Indica to hybrid and autoflowering genetics, Garden Of Green offers plenty of options for your desired effect. Their THC-rich strains like Cali Bay Dream (25% THC) and Girl Scout Cookies (28% THC) are not for the faint of heart, but for those seeking to enjoy the benefits of marijuana in a more recreational way.