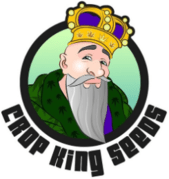 Crop King Seeds, the premier destination for cannabis enthusiasts seeking top-quality seeds. Our meticulously bred and selected strains ensure exceptional quality and genetic stability. With a passion for cannabis cultivation, we have remained at the forefront of the seed bank industry, providing growers worldwide with a diverse selection of superior genetics.
Unmatched Quality and Service
Crop King Seeds prioritizes customer satisfaction in every aspect of our operation. We handpick each seed and subject them to rigorous testing, guaranteeing high germination rates and optimal performance. Our commitment to excellence extends from seed production to customer service, where we strive to exceed expectations.
A Wide Range of Strains
Our extensive catalog offers a wide range of strains to cater to all growers, from beginners to seasoned professionals. Whether you seek classic strains, award-winning genetics, or innovative hybrids, you'll find the perfect selection at Crop King Seeds.
Seed Types to Suit Your Needs
Choose from our variety of seed types, including feminized seeds, autoflowering seeds, and regular seeds. Feminized seeds provide a higher probability of obtaining female plants, eliminating the need to identify and remove males during cultivation. Autoflowering seeds offer the convenience of automatic flowering, ideal for growers with limited space or time constraints. Regular seeds allow breeders to explore genetic variations and create unique strains.
Unwavering Commitment to Quality
At Crop King Seeds, we prioritize quality at every step. Through advanced breeding techniques, meticulous selection processes, and strict quality control measures, we maintain the integrity and consistency of our genetics. Each strain is carefully crafted to exhibit desirable traits such as potency, flavor, aroma, and resin production, ensuring an exceptional cannabis experience.
A Partner in Your Growing Journey
Crop King Seeds is more than just a seed bank; we are your trusted partner and source of knowledge. Our website provides valuable resources, including grow guides, strain information, and cultivation tips, to assist growers at every stage. Whether you're a beginner seeking guidance or an experienced grower looking to refine your techniques, Crop King Seeds is here to support you.
Join a Passionate Community
Choosing Crop King Seeds means joining a community of passionate growers who share a love for cannabis cultivation. Our dedication to customer satisfaction, quality genetics, and industry-leading expertise sets us apart as a trusted and reliable seed bank.
Embark on Your Cultivation Journey
Start your cannabis cultivation journey now. Explore our extensive collection of premium cannabis seeds, unleash your creativity, and experience the joy of growing top-quality cannabis. With SeedFare, your cultivation success is just a seed away.
Showing 1–36 of 227 results